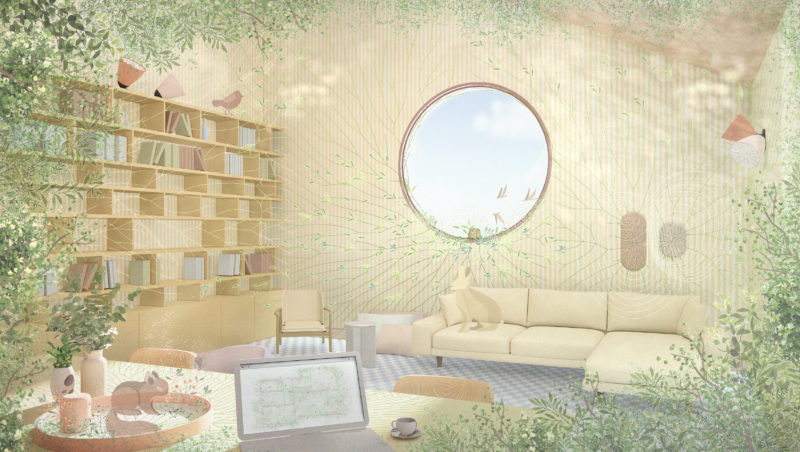 The judges said:
Alison Brooks: 'Like us playing music which feeds our soul, HomeForest brings a more immersive, sensory connection to nature which I find super interesting'
Narinder Sagoo: 'In terms of team, presentation and communication, it's in a world of its own'

According to the biophilia hypothesis, nature's restorative benefits occur because our brains have evolved alongside the natural world. The Japanese concept of shinrin-yoku (forest bathing) has been found to slow heart rate, reduce blood pressure and levels of the stress hormone cortisol, and to boost our immune systems. Other research studies suggest that exposure to artificial nature in indoor environments (visual, olfactory and aural) could confer some of nature's more physical benefits.
Working from home has its particular challenges as virtual meetings follow virtual deliverables in hours spent hunched over a screen. HomeForest aims to trigger the body's healing mechanisms through 'simulating' the sensory effects of shinrin-yoku. It is both digital and physical, a bespoke forest in the home to be tended and shaped, and which in turn nurtures and looks after the occupant – nudging them to switch off, take breaks, re-engage with their senses and imagination and reconnect with their homes.
HomeForest senses the presence of the occupant using connected, everyday devices and known technologies to transform spaces in the home through storytelling, sound, smell, light and projection. The kitchen sink becomes a stream where thirst is quenched, the stairs a mountain to scale. The living room is filled with the smell of moss and pine trees, transporting sounds of wind and bird song, and trees that grow on walls and wrap over ceilings.
Squint/Opera
Alice Britton, Eleanor Greenleaf
Haptic Architects
Agnieszka Glowacka, Tracy Shum, Agnete Winsnes Astrup, Janicke Sæther
Coda to Coda
Will Worsley
Poet
LionHeart
Interdisciplinary Designer
Yaoyao Meng