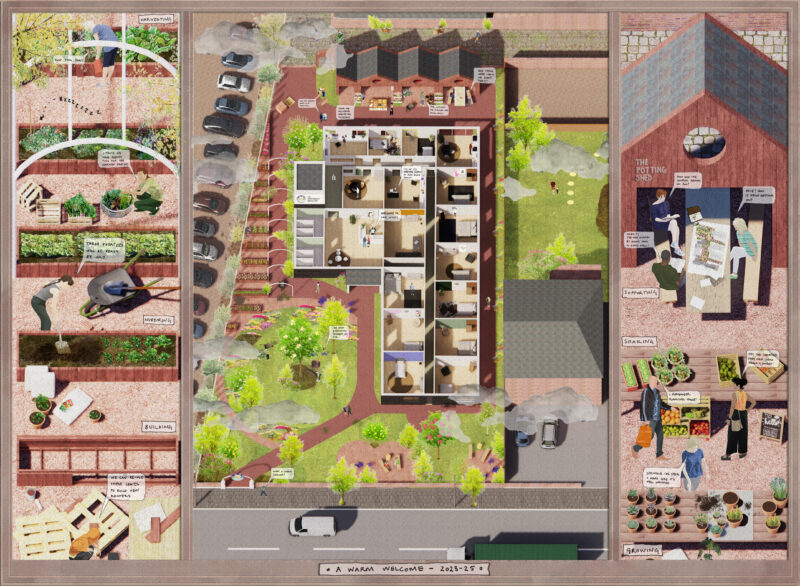 Helping Hands
Studio MUTT and Neighbourhood with The Independence Initiative, Hugh Baird College, Islington Hostel Outreach, Amber Akaunu, Peter O'Neil and Dead Good Poets Society
A nurturing communal landscape in Liverpool co-created by residents, neighbours and specialist support organisations
The National Audit Office suggests that a third of young people leaving care experience homelessness within two years, and that a quarter of homeless people previously lived in care. Recent studies also found that 41% of care leavers were not in education, employment or training, compared to 15% of all 19-year-olds. Helping Hands seeks to connect these issues and facilitate an infrastructure to help care leavers transition to independent living and meaningful employment.
The site is taken from leftover spaces of a typical urban block adjacent to Hugh Baird College in Liverpool, which already hosts several expert organisations offering support to homeless and vulnerable people. The proposal opens and connects the 'backs' of these organisations and reorients them within a nurturing communal landscape.
Shared accommodation for care leavers occupies one corner of the backlands while individual homes are arranged across the site reflecting greater degrees of independence. The repeated garden wall is a reassuring and recognisable presence, creating spaces of varied character and incorporating small-scale social and civic areas.
The Helping Hands team includes designers with experience of transitioning from care, experts already offering support and housing to homeless and vulnerable people on the site, medical professionals practising in homeless hostels and a local college where residents can learn the skills required to construct the housing our society needs.
The Helping Hands team developed their proposal at Finalist stage through further research with local stakeholders. Extending the proposal beyond the boundaries of the initial site, they have created a design solution that reflects The Independence Initiative's three stages of ongoing care: Warm Welcome; Firm Foundations; and Steady As You Go.
Studio Mutt
Alexander Turner, Architecture
Huma Mahmood, Architecture
Tony Lees, Architecture
Neighbourhood
John Nordon, Architecture / Development Strategy
Duncan Blackmore, Development Strategy
The Independence Initiative
Jim Brett, CEO
Hugh Baird College
Islington Hostel Outreach
Dr Polly Wootton, Healthcare
Amber Akaunu, Filmmaker
Peter O'Neil, Poet and Accessibility Consultant
Dead Good Poets Society
Poetry Society and Event Organisers