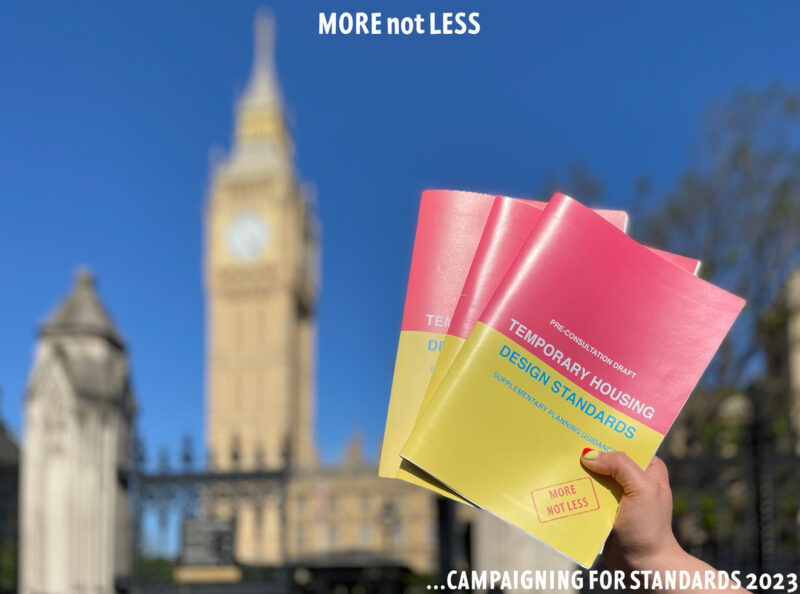 More Not Less
Re-Group: ZCD Architects and Madeleine Kessler Architecture with Datshiane Navanayagam, Architecture Doing Place, JCLA, Webb Yates Engineers, Charles Jegar, Gene Limbrick and Poppie Skold
Design codes reinventing temporary accommodation for positive futures
"Having a home is the one thing you take for granted. And when you lose that – especially as a child – it really knocks the core out of you. And you carry that insecurity with you for the rest of your life." – BBC News interview with Re-Group team member Datshiane Navanayagam.

Re-Group's team has lived experience of hidden and childhood homelessness, with expertise across policy, architecture, landscape, play, engineering, trauma counselling and broadcast journalism.
Homelessness is either preceded by trauma or causes trauma. This is often exacerbated by 'temporary accommodation' – often not short-term – before rehousing. The devastating failings of unregulated triage housing – which cannot be called 'homes' – significantly add to the trauma of those most in need. There is frequently a lack of space, privacy, safety, ownership, agency, sense of community and attention to wellbeing. There are no regulatory standards for temporary housing, with new-build schemes approved on a sui generis basis.

More Not Less responds with a design code to encourage aspiration rather than a race to the bottom. The proposal tests its principles on a design for an intergenerational living place, mainly for families with children. The site on Kingsland Road in Hackney, London, currently has planning approval for a temporary accommodation scheme that Re-Group believe is not fit for purpose.

Just as those in intensive care receive more care, Re-Group believes that those who need temporary accommodation deserve more not less – and that design must go beyond the standards set in The London Plan to consider ancillary spaces and homes. Is it welcoming? Is there space for wraparound care? Are there shared facilities, including workspaces, storage, youth club, shop and a communal kitchen? Is there room to play, learn and be close to nature? Through design, More Not Less aims to support the 'un-othering' of people who find themselves homeless.
The More Not Less team developed their proposal at Finalist stage by drafting a media campaign and detailed design guidance setting out and illustrating eight principles to be applied to temporary accommodation across the UK: Welcome; Safety, Support; Play; Nature; Space; Learning; and Connection.
ZCD Architects
Cordula Weisser, Architect (concept, design, production)
Dinah Bornat, Child-friendly City Expert, Architect and Urban Designer
Nick Honey, Architectural Assistant
Madeleine Kessler Architects
Madeleine Kessler, Curator, Architect
Datshiane Navanayagam, Journalist, Reporter and Producer

Architecture Doing Place
David Ogunmuyiwa, Policy, ex Housing Officer, Architect

JCLA
Natalie Simmons, Landscape and Biodiversity

Webb Yates Engineers
Steve Webb, Structure (natural timber and stone)

Charles Jegar, Trauma SFBT therapist in training (ex Energy Adviser – currently living in temporary housing)
Gene Limbrick, Film Director

Poppie Skold, Film Editor