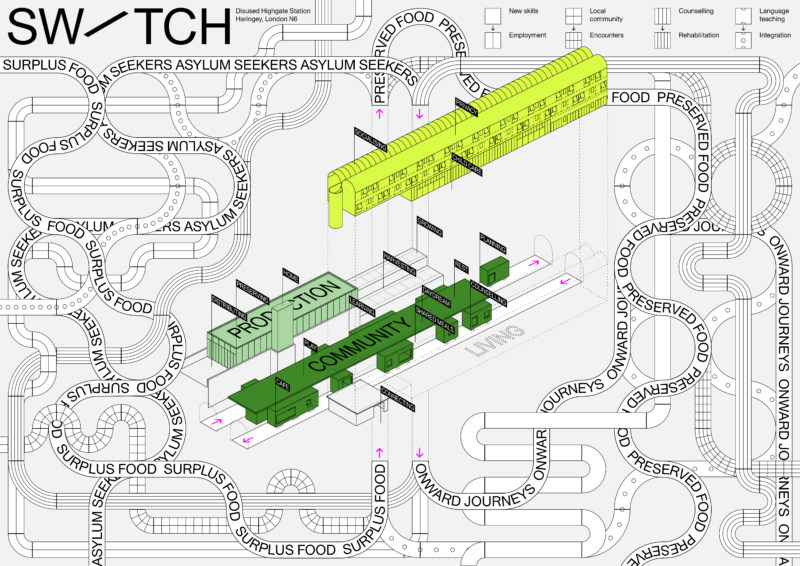 Repurposing a disused station with a linear modular design rooted in productive community
Situated at Highgate Station, the intervention aims to reanimate a disused station that once sheltered Londoners during the Blitz. The site provides security for asylum seekers to process their preceding journey and affords the conditions, assisted by food-based projects, to make a switch towards a chosen onward journey. The design promotes the idea that everyday rituals are vital social practices required to create meaningful spaces for diasporic communities.
Inspired by the elongated volumes of train sheds, the linear modular design responds to the needs of each person, couple or family while providing a nursery on the ground floor. The vaulted translucent body of the winter garden reconsiders deck access as a flexible space for socialising regardless of the weather and a central platform offers protection for people to gather and share communal meals. Using the existing train tracks, the mobile carriages can be organised for private use or interlocked for larger common purposes.

Residents have access to three projects designed to establish confidence, skills and autonomy. Conceived as the restorative core of Switch, the first is a resident-led allotment giving participants the opportunity to cultivate their own food and sense of belonging. The second is a car park repurposed to provide a two-storey facility for upcycling surplus food collected from the local area. Having been preserved, the products will then be redistributed to local foodbanks, giving purpose through civic participation. The third project is a café – the primary economic centre of the facility and a place where occupants share with visitors the food of home.

Halina Hoffmann, Interior Architect
Rita Peres Pereira, Graphic Designer
Inês Peres Pereira, Architect
Nina Jua Klein, Graphic Designer / Maker
Jonathan Duncan, Philosopher / Chef
Michele Rorato, Architect / Chef