Six inspiring home/work spaces
Written By
Amanda Baillieu
22.10.2020
To mark the launch of The Davidson Prize, we've gathered together six of our favourite home/work spaces to explore what makes them special.
Designing a domestic space for home working is a more complex brief than simply specifying the right desk and chair, noise cancelling headphones and a good Internet connection. Here are some of our favourite architectural solutions for home work.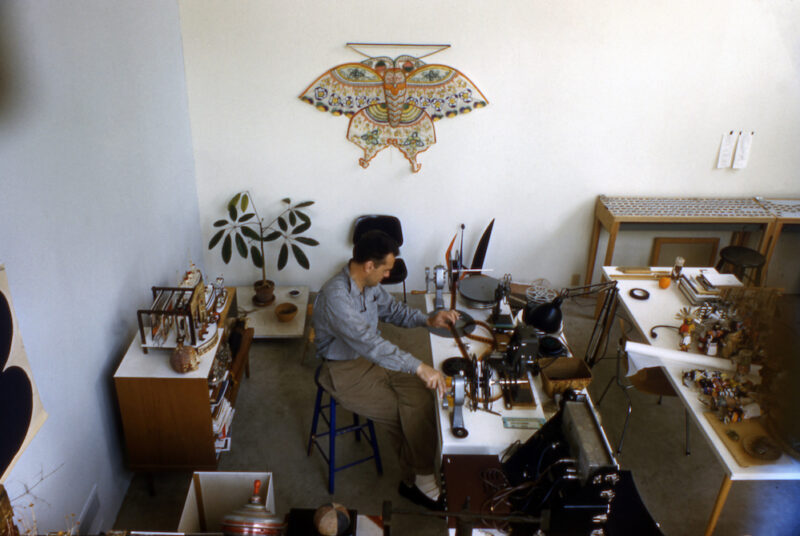 1. Eames House, Charles and Ray Eames
Los Angeles, USA

Perhaps the ultimate live-work space is the Eames House, designed by Charles and Ray Eames in the 1940s. Consisting of two glass and steel rectangular boxes separated by a courtyard, one volume was the couple's home and the other their working studio. The Eameses' gracious live-work lifestyle – the house was full of folk art, books and objects they both collected – continues to be an influential model. Charles and Ray moved into the house on Christmas Eve in 1949 and lived there for the rest of their lives.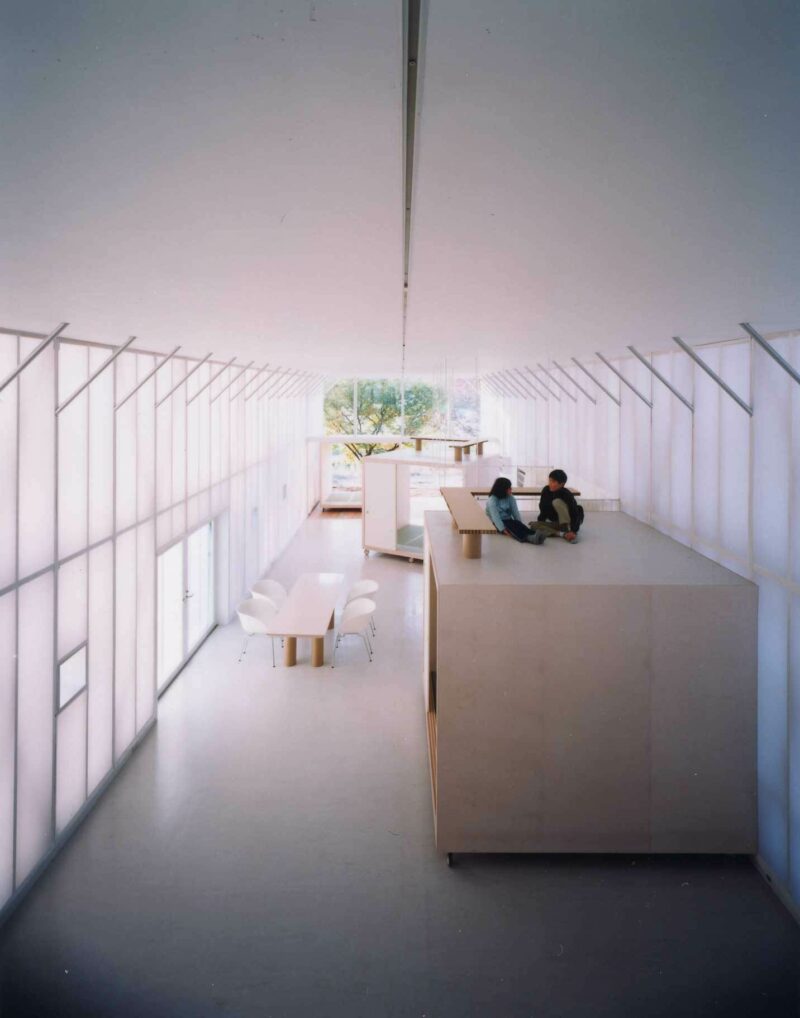 2. Naked House, Shigeru Ban Architects
Kawagoe, Japan

Designed to allow three generations of the same family to live together, the Naked House of 2000 has one of the key qualities needed to create successful live-work homes – flexibility. A single large common space and four mobile cubicle bedrooms can be organised and transformed as desired. The kitchen is placed at one side of the house and is simply separated from the living area by a curtain.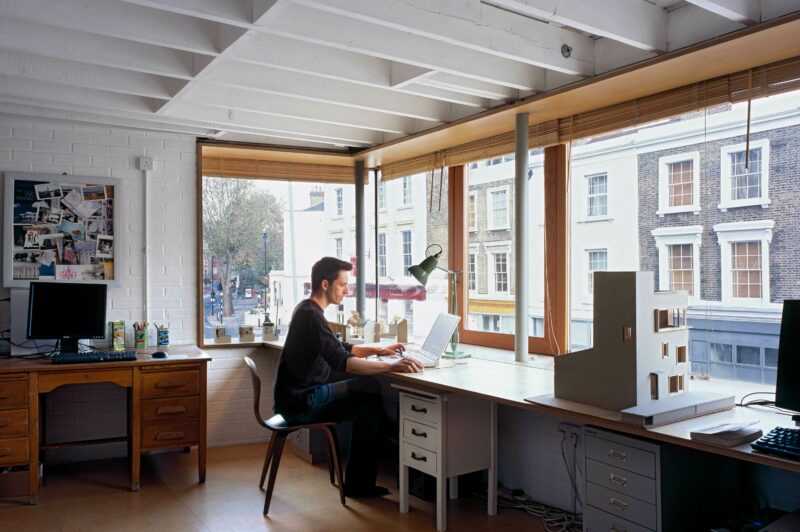 3. Newington Green House, Prewett Bizley Architects
North London, UK
Planned from the outset as a live-work space and completed in 2005, the top floor of this three-storey house is a studio for the architect's practice, with living space below including a basement. On a limited budget, the architect has given each of the different spaces its own character, with the studio level for example signalled by a huge corner window. The open staircase, a finely crafted element, is lined with cupboards and shelves for storage and display.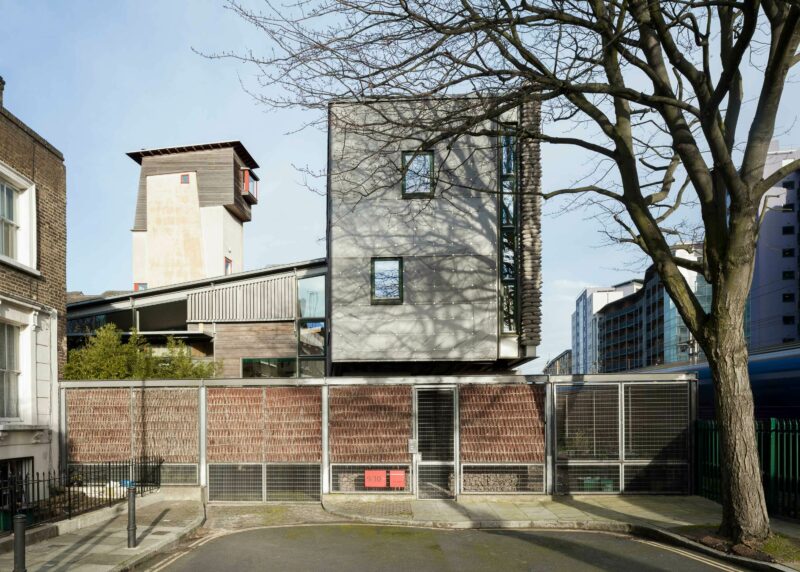 4. Stock Orchard Street, Sarah Wigglesworth Architects
North London, UK

Developed by Jeremy Till and Sarah Wigglesworth, this award-winning house known for its straw bale construction was completed in 2001 and is still the couple's home as well as being the studio of Wigglesworth's practice. The spaces hinge around an office conference room that doubles as a home dining room, and the walk to work is through a couple of doors. Overlooking a busy railway track on one side, the garden provides a calm place to take a break.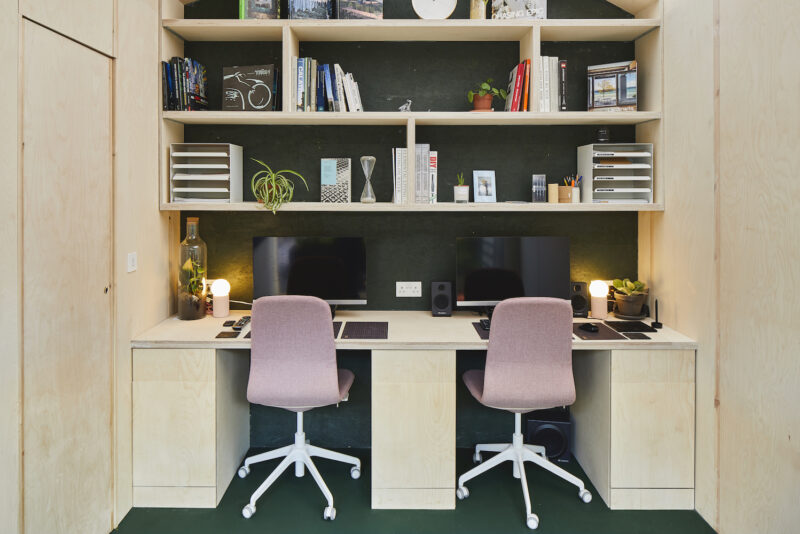 5. The Light Shed, Richard John Andrews
Forest Gate, East London

A studio at the end of the garden has always been a simple, cost-effective way of separating work and home. Just 12 sq m internally, Richard John Andrews' 2019 Light Shed has desk space for up to three people with an option to flip its function in the summer to become an entertaining space.
Sliding timber doors connect to the garden and diffused polycarbonate roofing panels give the studio its name due to the ambient light that creates a perfect environment for computer use.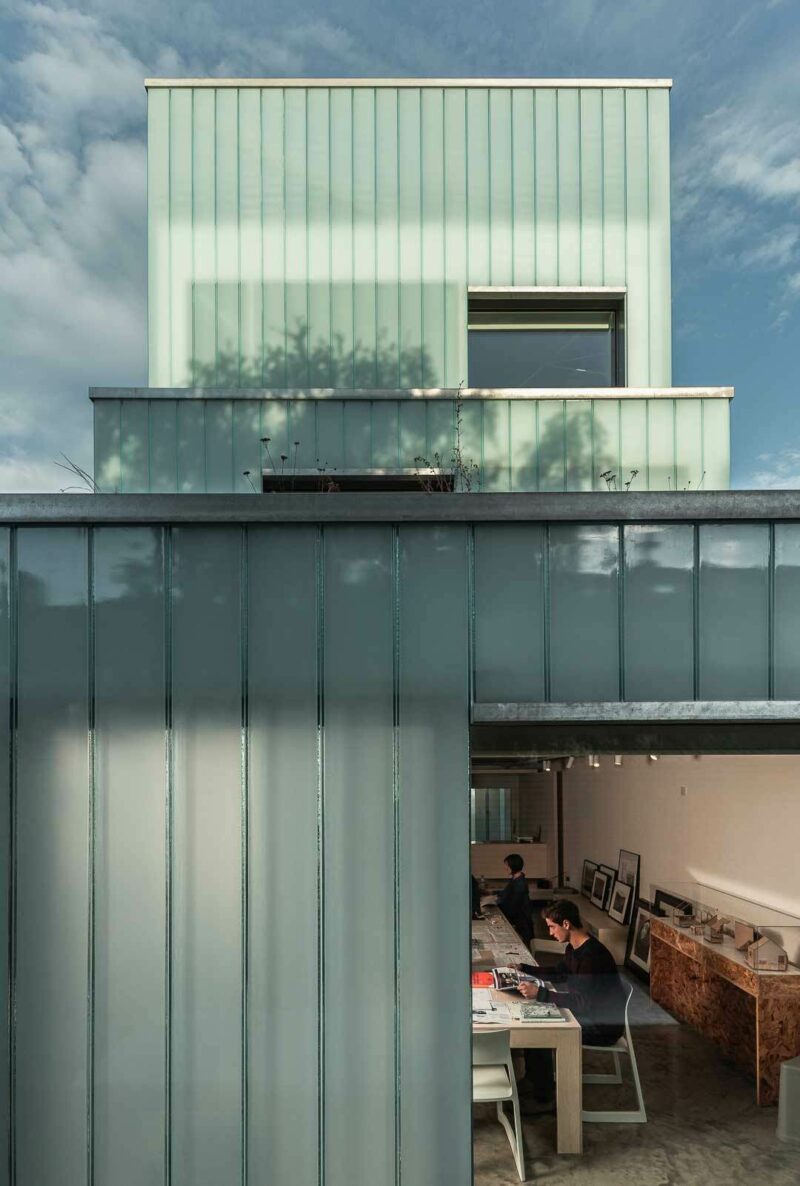 6. Slip House, Turner Works
Brixton, London

Architect Carl Turner designed the 2012 house and studio for himself and his partner but also as a prototype for a flexible terraced house typology that could be either a single home, studio workspace or split into apartments. In this configuration, the three cantilevered or 'slipped' boxes have living space at the top with sleeping and bathing in the middle box. The ground floor studio features a moveable study area, comprising a combined desk and shelving unit attached to wheels.