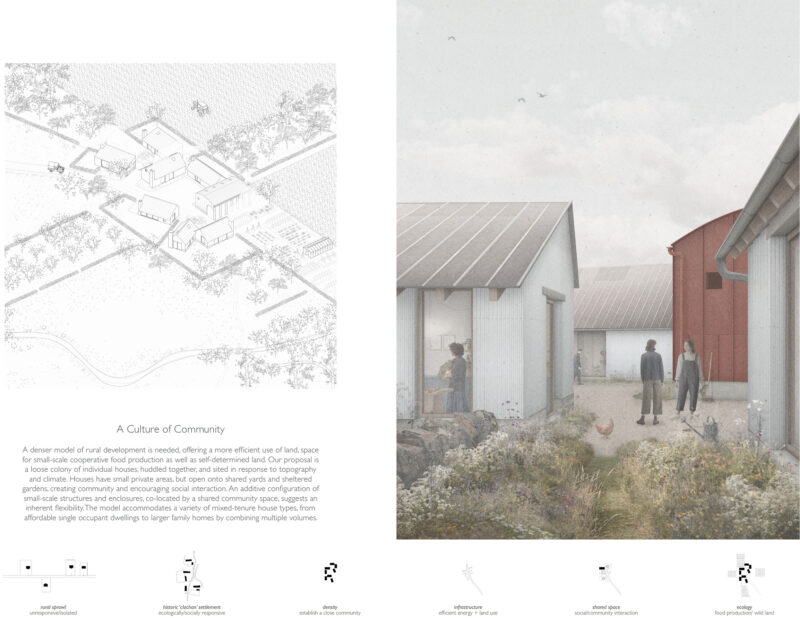 A Culture of Community
Baillie Baillie Architects and Community Land Scotland
A joined-up solution to inefficient, low-density development in rural areas to build connectivity and community.
Lack of cohesive thinking on rural settlement is proliferating inefficient, low-density development. Individual access arrangements, services, and single-house energy generation contribute to an uneconomical and ultimately unsustainable model, which is also suburbanising the landscape.
A Culture of Community's denser model offers a more efficient use of land, space for small-scale cooperative food production and dedicated self-determined or 'wild' land. Drawing on the rich culture of vernacular cluster settlements, or clachans, once prevalent in Scotland and Ireland, the model takes the form of a loose colony of individual houses, huddled together and sited in response to topography and climate. Houses open onto shared yards and sheltered gardens, creating a close community of neighbours and encouraging social interaction.
The additive configuration of small-scale structures and enclosures co-located with shared community space is inherently flexible. It also creates opportunities for a variety of mixed-tenure house types – from affordable single-occupant dwellings to larger family homes combining multiple volumes. The model is underpinned by a collective custom-build approach to development, empowering occupants to live and work together to rekindle a culture of community and collectivism.
Baillie Baillie Architects
Colin Baillie, Architect
Tom Stark, Architectural Assistant
Community Land Scotland
Dr Calum MacLeod, Sustainable Development Consultant