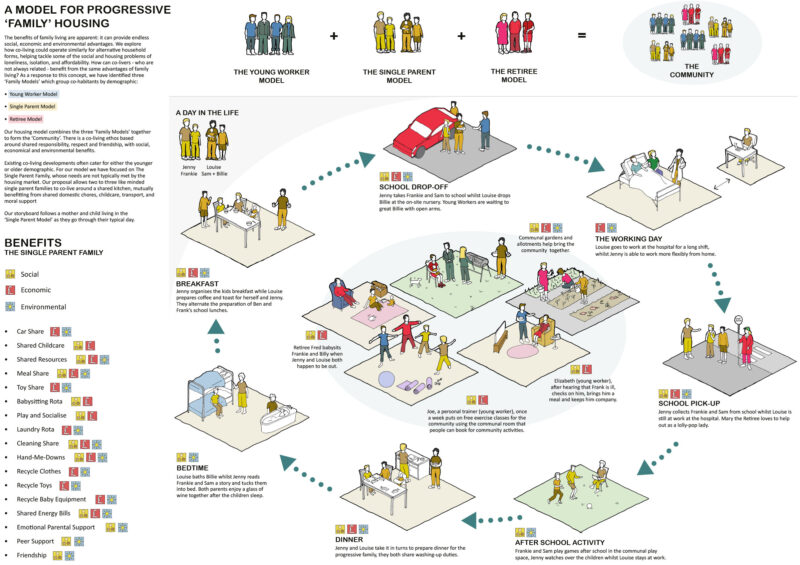 A Model for Progressive 'Family' Housing
The Progressive Housing Design Group
Co-living may be a practical solution to loneliness and the undersupply of affordable housing but arguably it can also be a compromise targeted at those unable to access traditionally marketed homes.
The UK's housing stock is designed around nuclear family living. In a changing society, this proposal asks how the nuclear family home can be adapted for those that don't fit the standard model.
Benefits of family living include social, economic and environmental advantages. How can co-livers benefit from the same advantages of family living?
This proposal identifies three 'family' models – Young Worker, Single Parent and Retiree – and groups them into co-living communities defined by an ethos of shared responsibility, respect and friendship and with social, economic and environmental benefits.
While existing co-living developments often cater for either younger or older demographics, the single parent model addresses needs not typically met by the housing market. In the model, two to three like-minded single parent families co-live around a shared kitchen, mutually benefitting from sharing domestic chores, childcare, transport, and moral support.

Giles Architects
Alex Giles, Concept Designer
Rachel Spink, Concept Designer
Sue Heath, Manchester University - Professor of Sociology / Designer

PHIG Architects
Peter Hyland, Concept Designer

Wild Island Films
Rachel Anderson, Film Producer
Connor Hughes, Music and Sound Editor