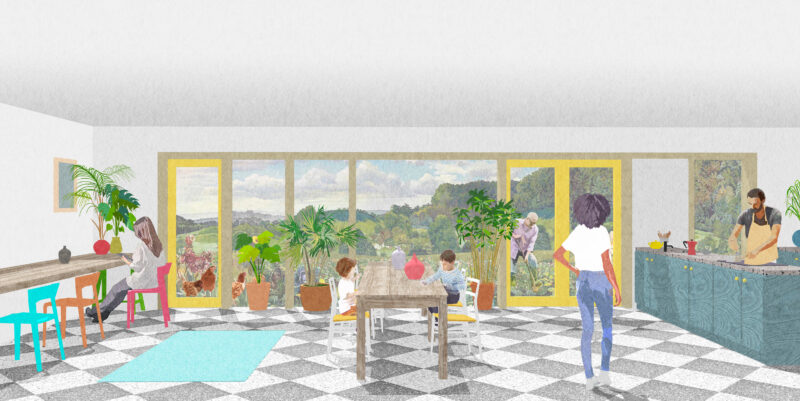 Co-Living in the Countryside
Charles Holland Architects with Quality of Life Foundation, Verity-Jane Keefe, Joseph Zeal-Henry
A model for rural co-living.
Rural areas in the UK suffer from a shortage of affordable housing and are overly reliant on a narrow development model monopolised by volume housebuilders. The result is atomised communities of single-family units in car-dependent cul-de-sacs.
Co-Living in the Countryside focuses on a typical site allocated by the South Downs National Park Authority, surrounded by an ageing demographic. The proposal is based on simple timber-framed construction allowing for flexible and variable house types with the potential for shared components such as kitchen/dining, workshop and childcare facilities. Car ownership is reduced through shared transport and on-site workspaces.
The scheme combines owner-adaptation, customisation and personal choice with a community-based governance model, allowing for individuals to co-exist while sharing resources, skills and spaces. Conceived as one of a number across East Sussex, the site is owned and run by a community housing association with the input of a steering group and a central board of governors. Individual units are rented with profits recycled through a pool. Improvements, adaptations and maintenance are funded centrally.
Charles Holland Architects
Charles Holland, Architect
Quality of Life Foundation
Matthew Morgan, Housing Research
Tiffany Lam, Housing Research
Verity-Jane Keefe, Visual Artist
Sound Advice
Joseph Zeal-Henry, Urbanist and Designer