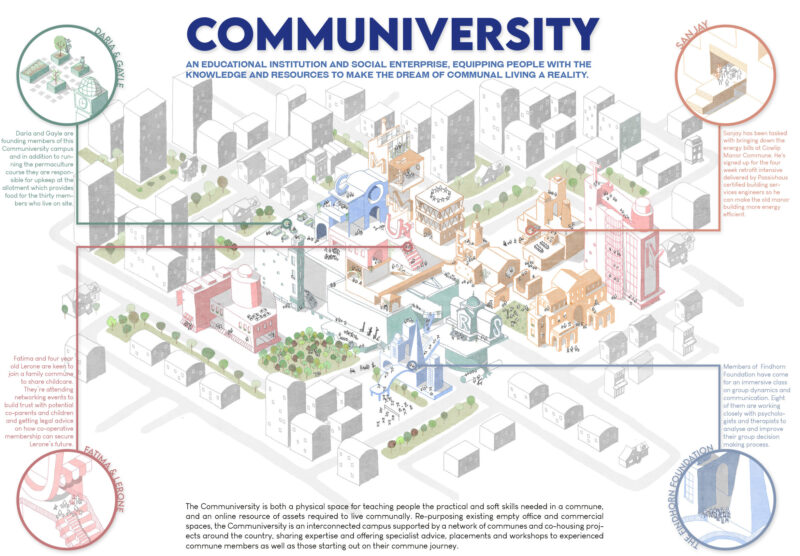 An Englishman's home is his castle – right? In the UK, private home ownership is promoted as the ultimate living goal. While an abundance of information and incentives exist for individuals or couples to pursue the aspiration of moving up the property ladder, in contrast the lack of guidance for co-operative living is stark.
What if there was as much information and support out there to help people build homes and lives that rely on interdependence? How can communal living be re-framed within the existing paradigm of individualism?
Successful models of communal living do exist in the UK but for every 100 people that attempt to form their own commune, 99 will not succeed. Communiversity is a social enterprise and educational institution with the goal of equipping people with the knowledge and resources to make their dream of communal living a reality.
A a multi-disciplinary group embarking on its own co-living journey, Communiversity is both a physical space for teaching people the practical and soft skills needed in a commune and an online resource. By re-purposing existing empty office and commercial spaces, the concept creates an interconnected campus supported by a network of communes and co-housing projects around the country, sharing expertise and offering specialist advice, placements and workshops to experienced commune members as well as those starting out on their journey.


Moebius Studio
Emma Elston, Architect & Build Lead
Totem Record
Dr Damian Gibbs, Psychiatry & Mental Health

OHMG video

Oran Hassan, Video Production & Editing
The Panics
Kim Taylor, Animation & Film
Alex Klein Productions
Alex Klein, Sound Production
Armanios Design
Greenie Armanios, Graphic & Animation