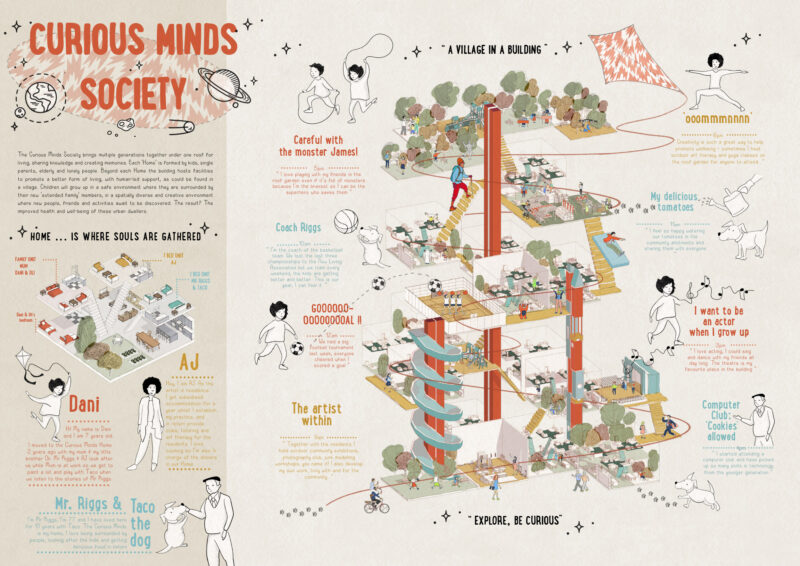 Curious Minds Society
Child Graddon Lewis, Split, Eley Kishimoto & Hungry Sandwich
The concepts of home, family, community and city are inextricably linked – a home is where souls are gathered, souls form a family, and many families together create communities and cities. Curious Minds Society argues that, thrilling and inspiring as our cities are, they have lost their intrinsic meaning of togetherness; that humans wired to seek connections have forgotten how to approach one another.
Here multiple generations are brought together under one roof to share lives, knowledge and resources while creating memories and addressing the growing loneliness crisis. Home units of single parents, kids, older residents and people starting out in life are supported by the building's wider facilities to foster community spirit.
Within this new typology for living, children will grow up surrounded by 'extended family' in a spatially diverse and creative place with people, stories and activities just waiting to be discovered. The model encourages the development of skills and social bonds through shared activities such as sports, theatre societies and art classes run by volunteer residents.
Readily available outlets for creativity will shape a way of improving health and wellbeing, as well as promoting alternative forms of learning for children and lifelong learning for everyone. The aim of Curious Minds Society is to humanise the scale of the city to create village-like communities within a single building – a 'home' as we once knew it.

Child Graddon Lewis
Robert Armstrong, Marketing & Communications
James Felstead, Architect
Arita Morris, Architect
Uxue Ojanguren, Architectural Assistant
Jessica Thompson, Architectural Assistant
Parniyan Salari, Architectural Assistant
Elaine Brown, Architectural Assistant
Matyas Varga, Architectural Assistant
Split Design
Oli Bentley, Graphic Designer
Eley Kishomoto
Mark Eley, Fashion Designer
Hungry Sandwich Club
Andy Foster, Illustrator & Animator