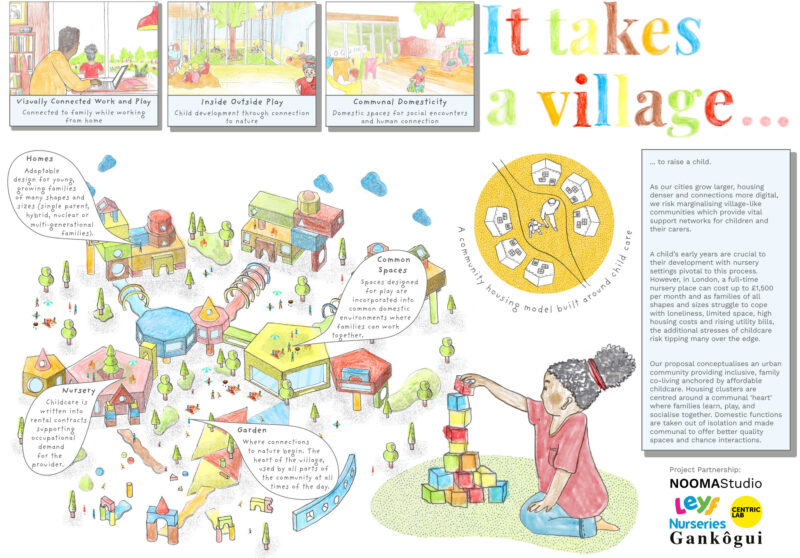 The old adage says that it takes a village to raise a child. This proposal puts forward a plan for a community housing model built around childcare.
As cities grow larger, housing denser and connections more digital, village-like communities that provide vital support networks for children and their carers are at risk of being marginalised.
A child's early years are crucial, with nursery settings pivotal to learning and development. As families of all shapes and sizes struggle to cope with loneliness, limited space, high housing costs and rising utility bills, the additional stressors of childcare availability and affordability threaten to tip some people over the edge. While non-profit childcare providers strive to provide affordable, enriching and inclusive pre-school education, they often struggle to find high-quality space in a property market that gives little thought to social infrastructure.
It Takes A Village is a concept that can be adapted for delivery in large urban developments or small infill sites. Its housing clusters are centred around a communal heart where families learn, play, and socialise together. In this way, domestic functions are taken out of isolation to offer better quality spaces and more social interaction.
The concept is a creative collaboration between a social impact asset manager – Gankôgui, an inter-disciplinary architectural collective – NOOMA, a non-profit early-years provider – LEYF and a neuroscience lab – Centric Lab.
Gankôgui
Michael Tsiagbe, Developer / Asset Manager
NOOMA Studio
Ramsey Yassa, Architect

London Early Years Foundation
Samantha Creme, Early Years Provider

Centric Lab
Josh Artus, Mental & Physical Health Advisor