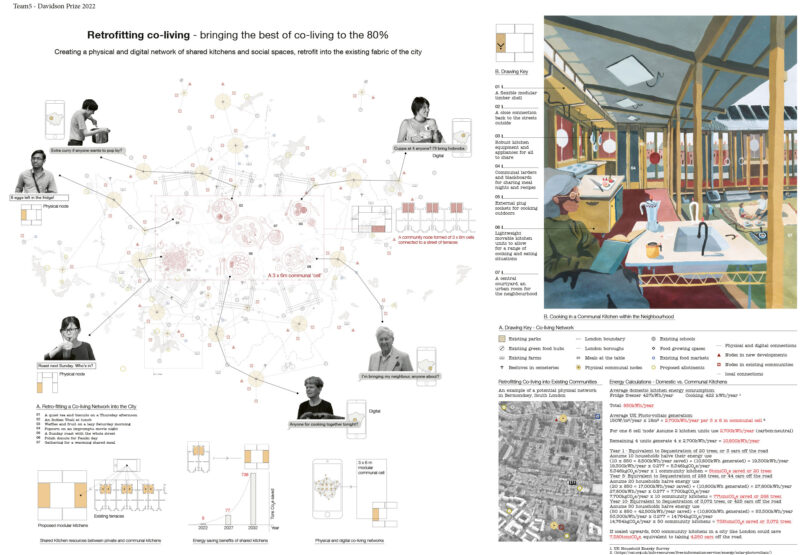 Roopa had been stuck inside WFH all day and was keen to finally chat to someone face-to-face.
Thankfully, she'd recently been introduced to a civic initiative called 'Retrofitting Co-Living', which made meeting a wide range of people from across the city surprisingly simple. Communal kitchen 'nodes' had been set up on under-used land, creating safe and accessible spaces for friends, neighbours and strangers to share food and company.
These physical spaces are supported by an underlying digital infrastructure. An intuitive app makes it simple to connect with others through food: whether cooking a feast to share or giving away some eggs before going on holiday.
Roopa headed out. She had seen on the app that Yekyung was making a communal sundubu-jjigae, which would have been a shame to miss!
Retrofitting Co-living offers an alternative to models that emit vast quantities of embodied carbon while building desirable new spaces for curated 'communities'. In fact, 80% of the buildings that will be occupied in 2050 have already been built. Retrofitting Co-living uses this existing urban fabric to transform a system of discrete and insular entities into an interconnected and democratised vision of a co-living city.
And that is how Roopa came to be enjoying a delicious tofu stew alongside Yekyung, Piotr, Lawrence and Diedre. Who said the city had to be a lonely place?
Team 5
Tim Rodber, Urban Planner / Amateur Chef
Dominic Walker, Architectural Designer / Photographer
Deborah Adler, Architect / Gardener
Liz Kaufman, Software Engineer / Coding educator

University of Liverpool
Ranald Lawrence, Environmental and Sustainable Design lecturer