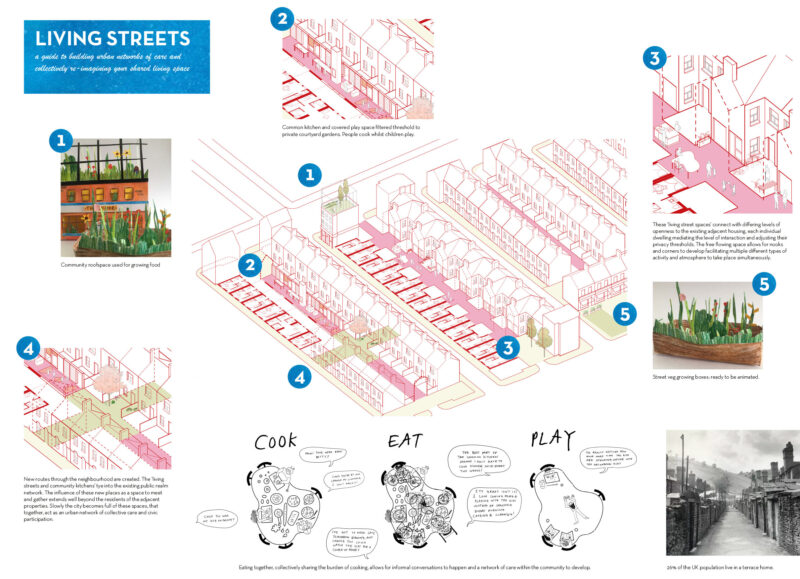 Urban Network of Collective Care
Living Streets explores a new urban network of collective care through expanding the accessible living space of communities and neighbourhoods into a network of 'streets'.
For networks of care to grow, people need to get to know each other. Small acts of kindness such as changing a lightbulb for an elderly person or picking up a neighbour's children from school may seem insignificant. But the cumulative effect can add up to that elderly person being able to maintain their independence or that single parent being able to keep their career.
Living Streets provides space for a neighbourhood to cook, eat and play together. Exploring the existing typology of terrace housing, it tests adaptations to meet changing societal needs and family structures, expanding the accessible living space of each resident through the collectivisation of existing and often under-used back yard and alley spaces.
The new 'streets' tie into existing public realm networks, creating a reach far wider than immediate neighbours and developing an urban network of care across the city that is domestic in scale but expansive in its impact. Shared kitchens and large indoor play spaces reduce the pressure of space in individual homes while the care network means that elderly residents, for instance, could downsize to a single floor of a terrace house without losing access to amenities and community.

Rosie Hervey, Architect/Researcher

Sofia Beale, Illustrator/Stop Frame Animator