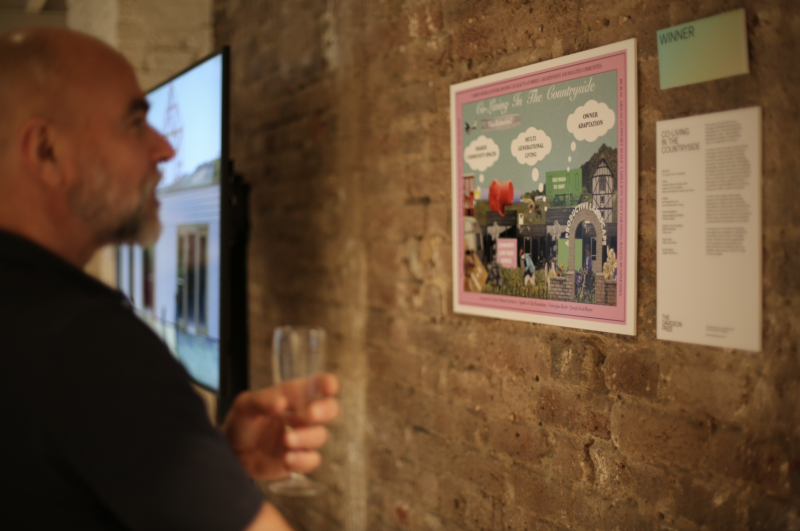 The Davidson Prize 2022 Awards Ceremony
Written By
The Davidson Prize
22.07.2022
On 14 June 2022, The Davidson Prize hosted an awards ceremony as part of the London Festival of Architecture to celebrate this year's entries and announce the 2022 winner. The ceremony was held at Pearson Lloyd's Yorkton Workshops in Hackney, East London and featured an exhibition of the longlisted, finalist and winning submissions. The longlisted and finalist teams were invited to come and celebrate alongside the jury panel, representatives of the Alan Davidson Foundation and built environment industry professionals.
On the night, jury chair Paul Monaghan revealed the winner as Co-Living in the Countryside – a development model for affordable rented rural co-housing from Charles Holland Architects with research charity the Quality of Life Foundation, visual artist Verity-Jane Keefe and urbanist and designer Joseph Zeal-Henry of Sound Advice. The team was presented with a trophy and the £10,000 prize money.
The two other finalist teams, Communiversity by Moebius Studio and It Takes a Village by Child-Hood, were also awarded runners up trophies – which were crafted by AHMM's wonderful workshop.
During the ceremony, the winner of the inaugural People's Choice Prize, kindly sponsored by VitrA Bathrooms, was announced as Heta Architects and Building with Nature for Recipro-City . The team's proposal identified a model of co-living aimed at communities made up of vulnerable or marginalised people whose neurobiology or life experiences have led – or forced – them to seek alternative ways of living. Built on a reciprocal framework, the model provides opportunities to develop social bonds that mitigate the challenges of loneliness and homelessness.
Close to 450 people voted in the public poll, with Recipro-City receiving nearly 20% of the votes. They were invited to the VitrA London showroom in Clerkenwell to be awarded their trophy and all received a Liquid ceramic stool from the award-winning VitrA x Tom Dixon line.
The end of the awards ceremony signalled the opening of the exhibition, which was on show to the public between 15 to 19 June.