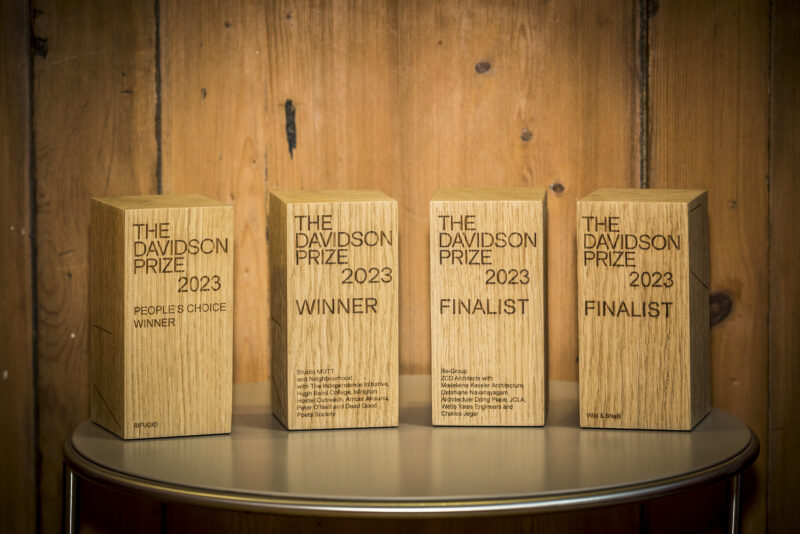 The Davidson Prize 2023 Awards Ceremony
Written By
The Davidson Prize
04.07.2023
On Tuesday 20 June 2023, The Davidson Prize hosted its third annual awards ceremony as part of the London Festival of Architecture. Held at at Istituto Marangoni's Fashion Street campus in Spitalfields, London, the evening was an opportunity for us to celebrate this year's longlisted teams and reveal the 2023 winner as well as the winner of the People's Choice Prize.
Longlisted and finalist teams came together to celebrate with the jury panel, representatives of the Alan Davidson Foundation and industry professionals.
During the ceremony, Switch by Rifugio was revealed as the winner of the People's Choice Prize. The team proposed repurposing a disused station in Highgate, London as place where asylum seekers are offered sanctuary to process the trauma of their preceding journey. A total of 882 people voted in the public poll, with Switch receiving more than 20% of the votes.
Before the overall winner was revealed, the three finalist – Helping Hands, More Not Less and Home Building – presented their final design ideas to the audience.
Jury chair Sadie Morgan revealed the winner as Helping Hands – a bespoke and collaborative development model that addresses urgent need for temporary homeless accommodation and support services for young people leaving the care system from Studio MUTT and Neighbourhood with The Independence Initiative, Hugh Baird College, Islington Hostel Outreach, Amber Akaunu, Peter O'Neill and Dead Good Poets Society. The team was presented with a trophy and the £10,000 prize money.
The two finalist teams, More Not Less by Re-Group and Home Building by Wild & SNaB, were also awarded runners up trophies – which were kindly crafted by AHMM's wonderful modelshop.
The awards ceremony was closed off with a poetry reading from the winning team's resident poet Peter O'Neill.